VIETNAM - Early Days (cont.)
AUGUST 1968 - SEPTEMBER 1968
Looking south from Hwy 9 Camp Carroll is seen along the top of the ridgeline.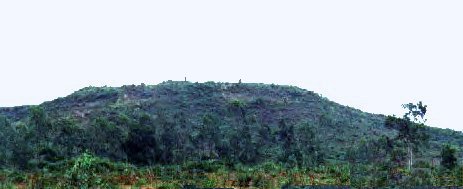 For the troops newly arrived in-country, VC and NVA seemed to be everywhere. You were never sure who was following you. Early on the BN the worked from many different bases. These included Camp Carroll (a large USMC Artillery fire support base), temporary bases near Wonder Beach and Fire Support Bases A3, A4 and C2. These latter three were part of the defunct MacNamara Line. A3 was an open area west of Highway 1 and quite close to the DMZ. It overlooked the site of the destroyed village of Gia Binh. A4 was also known as Con Thien (a Vietnamese village by that name had once been there) and, as the highest ground in the area, the French and then the USMC had occupied it. C2 was south of A4 and to the north of the populated village of Cam Lo and the Cam Lo resettlement village. These old bases were not nice places. Infested with rats, surrounded by unmarked and unmapped mine fields (some inside the perimeter wire) and both dry and dusty or hip deep in mud or sometimes both, they were not the ideal home away from home.
But with lots of time in the field, frequent contact with the enemy and good leaders in the companies, the 1/61 was fast becoming a seasoned combat unit. Just as clearly it was understood that most of the unit's time would be spent north of Cam Lo and west of Dong Ha.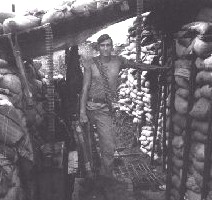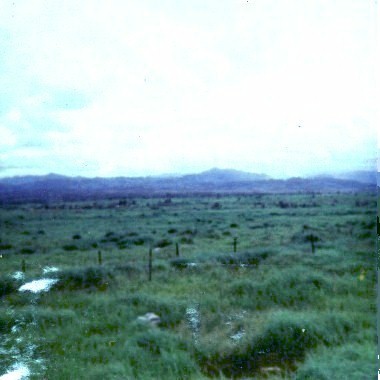 (LEFT)A view into one of the bunkers on A4. That is Barney Hyatt standing inside. He was later wounded, med evac'ed and did not return to VIETNAM.
(RIGHT) On A4, looking west from the perimeter wire toward Hill 162.